Paycom Software (PAYC), the online payroll and human resource technology provider has delivered exceptional return to shareholders in the last five years, with an increase of 863.5% in the stock's price in that span. Since I last wrote about the company in January, the stock has gone up over 78.4% to $155.12. What has driven this growth? And is it sustainable?
PAYC data by YCharts
Paycom Software provides software with functionalities and data analytics for businesses to manage the whole employment cycle from recruitment to retirement. It is based on a core system of record in a single database that provides tools for:
Talent acquisition: tracking potential candidates, tracking applicants through the hiring, doing background checks, streamlining the hiring, and termination process, calculating tax credits, and doing employment verification.
Time and labor management: managing time, attendance, location, and schedule of employees with automatic changes in payroll, and dealing with time-off requests and labor allocation, all while giving up to date reports to employers for decision making.
Payroll: automation of payroll including dealing with taxes, deposits, penalties, interest disputes, etc., while managing and monitoring employees' expenses and reimbursements.
Talent management: improve employee engagement by giving them answers related to payroll, performance, goals, benefits, etc., giving employers insight and help in formulating budgets, compensation, performance goals, etc., and providing tools to facilitate the training processes.
Human Resources management: managing employee files, documents and tasks, government compliance tools and COBRA violation administration, management of employee benefits including healthcare and survey applications.
How Did They Get Here?
In the past three years, Paycom grew their revenue from $204 million to $498 million, a growth of over 144.6%. Their cost of goods sold also went up at a similar pace (148.6% growth), from around $33 million to $81.5 million. The real difference came in total expenses, which went from $171 million to $373 million, a growth of only 118%. In the graph below, it's very clear how the distance between revenue and total expenses has been expanding. The differential increase has been driving margins and profitability much higher.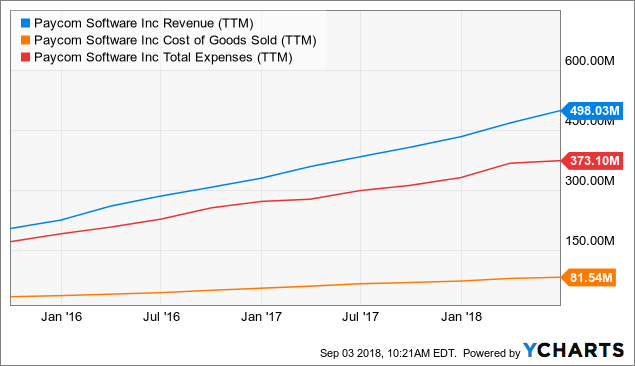 PAYC Revenue (TTM) data by YCharts
In that span of time, Paycom's net profit margin went from around 9% to current levels of almost 21%. Profit margins more than doubled. This is not surprising since Paycom has considerable fixed costs, and as revenues increases, they can take advantage of economies of scale.
In their most recent form 10-Q, we see the biggest expense was sales and marketing, which represents 37% of the total operating expenses. Meanwhile, direct costs accounted for around 20%. The biggest fixed costs were R&D (12.5%) and general and administrative expenses (22%).
While the first two costs usually go up in line with revenue, the latter two are sort of fixed costs. This explains why, despite revenue and direct costs increasing substantially, total expenses, which include variable and fixed costs, went up considerably less. As revenue continues expanding, the gap between revenue and total expenses should keep increasing, driving margins higher.
Increased margins and higher revenue, in turn, lead to higher ROA and ROE. Just like the net profit margin, ROE more than doubled over the last three years, going from 22% to 47%. Meanwhile, ROA more than quadrupled, going from under 2% to 8%. Both of these metrics indicate Paycom has been making a more efficient use of its resources, generating significantly higher returns per dollar of equity or asset the company has.
Strategies for Growth:
According to management, the company plans to further increase their revenue by:
Increasing the number of sales offices and sales teams in their current markets. At the moment, they have a presence in 35 of the 50 largest metropolitan statistical areas, and they plan to increase the number of customers in those areas.
Expand into other markets by opening sales offices in other markets, especially big metropolitan areas in the US that currently have no sales offices or teams.
Selling additional applications to current clients that only employ certain parts of the Paycom ecosystem.
Target larger clients since the platform requires no adjustment for size and marginal cost per client is low. This would allow them to increase the number of clients and the revenue per client without a substantial increase on costs.
Develop and deploy new applications, while updating and improving existing ones.
Given that 98% of Paycom's revenue is recurring revenue and their retention rate is about 91%, the above strategies seem like good options for Paycom. Between 2015 and 2016, Paycom grew their number of clients by around 15-16% yearly. If they can maintain a similar or slightly lower growth, while locking up long-term contracts with big and medium sized companies, it will be a success. Establishing a large and consistent revenue stream from a subscription to their services is a recipe for success, and that it what management aims to do by ramping up their sales teams.
Financial Ratios
At the moment, Paycom has a P/E ratio of around 88.39, a Forward P/E of 48.63, and a P/FCF of 70.34. The company has to maintain or exceed their excellent growth record to justify these valuations. If they fail to maintain their growth, the stock will be overpriced. Keeping an eye on customer growth and retention rates will be important going forward, to see if the company can maintain current growth levels. However, management seems confident the new strategies will keep customer flowing, and given they have still several untapped markets I believe so too.
It's important that investors understand that, although Paycom has the potential to deliver an extraordinary return, it is a risky investment given their high valuation. This might be reflected in their Beta of 1.59. This implies the stock's price is around 59% more volatile than the market.
In terms of debt, Paycom has no trouble. They have a debt/equity ratio of 0.11, and a Lt. debt/equity ratio of 0.1. Given Paycom has very low debt levels and a good amount of free cash flow, investors shouldn't be worried about the debt or interest payments. In the short term, there is also no trouble, with a quick ratio of 1.1. That is, Paycom has enough liquid assets to pay up to 110% of their short-term obligations. Since Paycom has to dedicate little to no resources to debt repayment and interest expense, they can use most of their cash flow from operations towards expanding their business.
Conclusion
Paycom has been on a tear as of late. The company has managed to drastically increase their revenues and profit margins at the same time, making earnings soar. They have almost no debt and have financed most of their growth through reinvestment of earnings. All of this has resulted in the stock's price shooting up as well. Management has clear goals and strategies to continue expanding, and there are still many potential markets in which they have yet to establish a presence. Paycom has a lot of room to grow and expand, and as the number of applications and services they provide grows, higher recurring revenue from existing clients will continue to climb. Although current valuations do imply a high level of risk, I consider Paycom still has significant room to grow and could deliver shareholders substantial returns.
Disclosure: I/we have no positions in any stocks mentioned, and no plans to initiate any positions within the next 72 hours.
I wrote this article myself, and it expresses my own opinions. I am not receiving compensation for it (other than from Seeking Alpha). I have no business relationship with any company whose stock is mentioned in this article.